These lovely base metal barrettes are guaranteed to hold hair of any texture.
With a little flip of the bar you can embrace any amount of hair you desire and then another flip snaps to hold your hair tightly.
For only $35 with a lifetime warrantee, these are a steal. .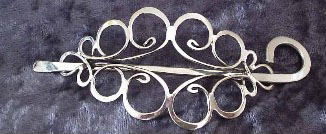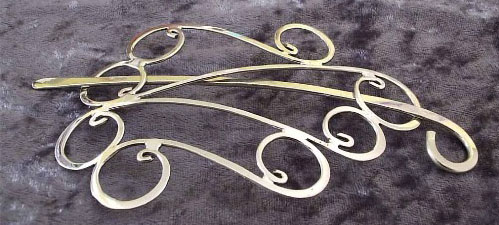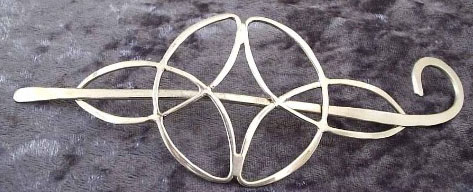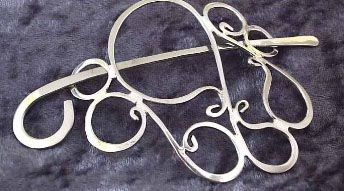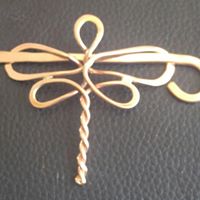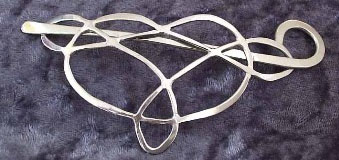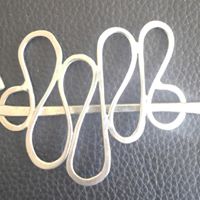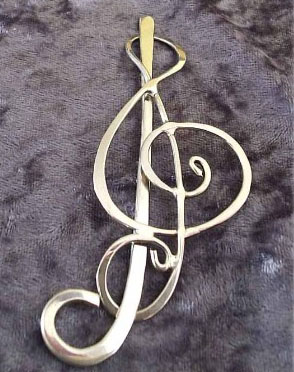 1.Superswirl
2.Inward looking
3.Celtic Wave
4.Celtic Knot
5.Celtic Swirl
6.Broad Wave
7.Dragonfly
8.Loops
9.Celtic Heart
10.Treble Clef

The Barrettes can be ordered in the size of your choice.
Small is about 3 inches/7.5cm. long. Medium is about 4inches/10cm long. Large is about 5inches/12.5cm. long.
They are designed to be shaped round a mug or jar to hold more hair or left flat as needed.
Like all our work, they are unconditionally warranteed!
There are so many design possibilities! Feel free to request just the design you desire.
Maybe your name or a friend's name, maybe an animal or flower.
---
Top of Page | Jewellery Arts Home
---
---
Name Jewellery | Talismans | Zodiac Symbols | Production Pieces
One of a Kind
Watch bands | Wedding sets | More One of a Kind | Links



Flight of the Eagle
P.O. Box 63, Station A
Fredericton NB Canada E3B 4Y2
info@flightoftheeagle.ca

Page Last Modified March 24, 2020

Copyright © Flight of the Eagle 2008